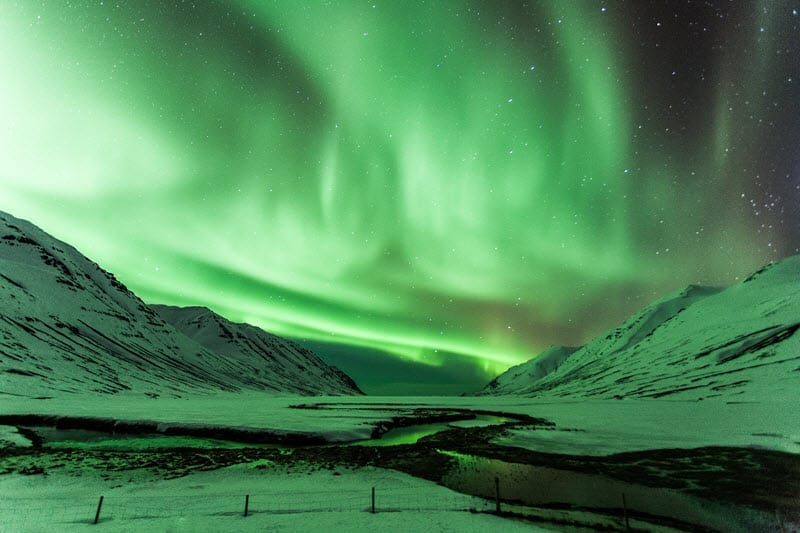 Iceland is becoming one of the most famous and popular vacation places to visit and this why!
Although darkness prevails about 20 hours a day and most days' temps won't make it above freezing, winter is the most popular time of the year to travel to this beautiful destination. You ask yourself why would I want to travel to such a place during winter? Iceland is truly a winter wonderland and the ice capital of the world! When it freezes over, it becomes a place of partially frozen waterfalls, ice caves and snow covered glaciers.
10% of the country is made of glaciers. Visit Crystal Caves where water flows through these caves and freezes leaving glowing blue ice formations.
Waterfalls: Gullfoss is beautiful no matter when you visit but winter is extra special due to its many layers of frozen icicles.
Snowmobiling: A very popular way to see many of the beautiful sites like the frozen glaciers of Langjökull and Mýrdalsjökull or take a trip to see the Golden Waterfalls (Gullfoss).
Hot Springs: Iceland is known as the country of Ice and Fire. There are over 130 volcanoes which has turned Iceland into a geothermal hotbed. The Blue Lagoon is the most famous spot.
Northern Lights: The Aurora Borealis can be seen from just about anywhere even in down town Reykjavik but if you head to a remote area where there is no light pollution your chances to view this phenomenon increases dramatically. The sites are magnificent as you see these green glowing twinkles which light up the sky as the sun and earth particles collide.
Golden Hours: Since there are only 4 or 5 hours of sunlight a day these hours are often referred to as the Golden Hours. The sky during this time has a nice glow.
Extra Long Night Life: Bars open until 4:30 a.m. and quite close to one another, convenient to get to. Since there are only a few hours of sunshine in the winter you aren't burning day light by stopping in for a drink!
Solitude: Although the sound of 20 hours of darkness may not sound appealing to most people, the sights of beautiful crystal caves, frozen waterfalls, glaciers, hot springs, and Northern Lights is. Also, you will be sharing this experience and beautiful sites with WAY LESS people when you visit and saving money doing so!
Discounts: Winter brings many huge discounts on airfare, hotels and tours.
Handmade Icelandic sweaters made from 100% wool (lopayeysa) make a wonderful souvenir.
Safe Travels,
-Tammy