Sandals' Only All-Butler Boutique Resort
We were fortunate to be invited to the Sandals Royal Plantation in Ocho Rios, Jamaica. Knowing about travel we knew what to expect, boy were we wrong!
RE-Connect
The theme for the trip was reconnect – what we didn't realize was exactly what this all meant?
Arrival
When we arrived the staff was ready and waiting. This is one of the smaller Sandals Resorts and it offers the opportunity for a very intimate and personal experience.
Everyone knows your name… (sound familiar?) And they're all so glad you came…
Right from the start everyone is warm and welcoming. One of the first people you meet will be your butler. Yes, your own personal butler.!! Upon introduction you are given a cell phone with them (you will be assigned 2 butlers) on speed dial. Anything you need, just call.
The Resort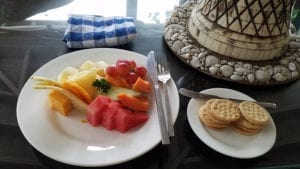 Sandals Royal Plantation is relatively small with regards to amount of people yet there is plenty of room. With two separate beaches, you have areas to get away and yet you are always connected.
You never need to wait long if you are thirsty, as the "beach butlers" are also at your service!
Afternoons are quiet times and don't be surprised if your butler happens to track you down and bring you a nice little afternoon treat.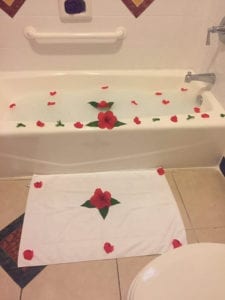 One day, after a few hours of inspecting other Sandals and Beaches Resorts, our butlers surprised us with a nice romantic bath – complete with flower petals!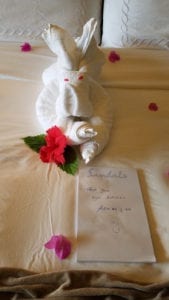 Upon returning to the room you will be amazed at all the little things you will find. The butlers are quite attentive and are keen on surprising you.
Sandals Royal Plantation -Restaurants
The Sandals Royal Plantation has 5 restaurants. This may not seem like a lot – you need to remember at full capacity there will only be 150 guests (at max.). This means 30 people per restaurant – pretty quaint.
The food is delicious – with plenty of variety. Even though they have a great assortment of sea food, you can always find a steak or two on the menu.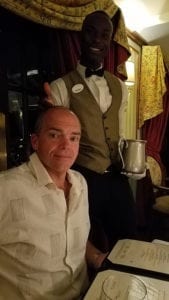 You will also have the option to head over to Sandals Ochi Beach Resort which is a 5 minute complimentary shuttle ride next door. Here you will find an additional 16 restaurants and 11 bars!
Even if you are sitting by the Royal Plantation pool and have the desire for pizza – your butler will be happy to "order out" from Ochi Beach Resort and deliver to you pool side.
Sandals Royal Plantation – Redline Spa
Since the trip was also a part of our anniversary present to each other we decided to pamper ourselves with a couples massage. Having done a few couples massages before, again we knew what to expect… Wrong!
Let's just say this was the MOST ROMANTIC couples massage ever! Here is where the "reconnect" was truly evident. I will not give away what happened. Will say that it brought us back to when we were first married over 21 years ago. The emotional connection was amazing!!
As we settled up the tab at the spa (we purchased a few items) – the salesman asked us to step outside while he readied our receipt.
Once out on the veranda there was a table and chairs setup for us. Sparkling cider and cheese cake, with flowers and candles all around…  another little "extra" to say "Happy Anniversary" compliments of the staff. Wow! Simply amazing!!
A Great Choice
We cannot say enough about the Sandals Resorts and the other Sandals branded properties: Beaches and Grand Pineapple!
If you are looking to book a great get-a-way vacation, let us know! Your dream vacation awaits!
Safe Travels,
Tammy
Sandals Island Hopping